A surfing guide to San Juan del Sur's surf shops, lessons, beach shuttles,
and panga boat trips!
Walk around town and you will see many surf shops as San Juan del Sur is Nicaragua Surf City!
If you came to Nicaragua for surfing you are in the right place, Southern Nicaragua is blessed with almost 300 days per year of "off shore winds"! What more can we ask for!
Most of our surf breaks are tidal dependent, most like a medium or high tide, so ask at the surf shops what the tide is doing today.
There is usually no surf in the Bay of San Juan, it only breaks in town on large south swells and when the south winds blows it is off shore in town and rideable.
But, just a short ride away we have our good surf spots!
Go North to Playa Maderas or South to Playa Hermosa, two of our favorite beaches.
There are scheduled beach shuttles that run from town to both of these beaches and there are always private shuttles to be had to explore our other surf breaks both North and South from town.
Stop by at any one of our surf shops and they will be able to help you get to the surfing beaches.
Or take a panga surf tour to some of our surf breaks that are only accessible from the sea!


Surf Shops & Surf Lessons:
Private Surf Lessons
with AKAMAI SURF
For beginners and novices….learn to surf with Dexter Ramirez, one of the first surfers in Nicaragua!
Dexter has been surfing since 1991 when the first surf boards arrived in San Juan del Sur. He has surfed and placed in surf contest since 2002. In 2004 he started judging surf competitions and is an ISA, (International Surfing Association) judge and also coach of the National Surf Team of Nicaragua!
Private surf lessons with transportation and surfboard included;
(Minimum of 2 people and a maximum of 6)
Playa Maderas $45 per person
Playa Remanso $45 per person
Playa Hermosa $55 per person, (includes entrance fee)
Set up a surf lesson today!
San Juan del Sur Surf Shops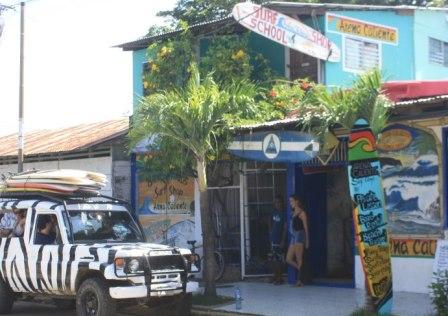 Baloy's Surf Shop, located just a block and half northwest from the Mercado. Owned by our local surf champions, Luis and Augusto Chamorro, their store has good used surfboards plus new boards and also all the surf accessories you will need for your surf vacation!
Mopes Surf Shop, located on the road that runs along the beach in
San Juan del Sur, along restaurant row, owned by local hot surfer Gerardo, they offer surf trips via land and boat to beaches both North and South of town, surf lessons at both Playa Maderas and Playa Remanso and surf board rentals, and they also do fishing trips!
Arena Caliente Surf Shop, located next to the Mercado, is the oldest operating surf shop in Nicaragua. They offer surf lessons, surf board rental, surf trips via land and panga and even surf accommodations right in downtown, San Juan del Sur!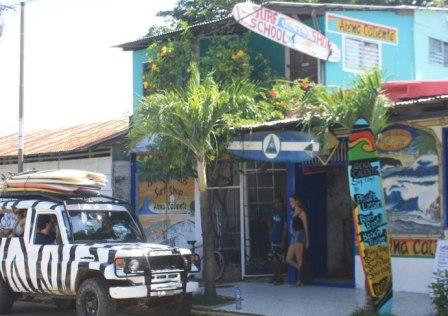 Good Times Surf Shop is located a half block North from Barrio Cafe.       Good waves, good times and the best rental board selection in                         San Juan del Sur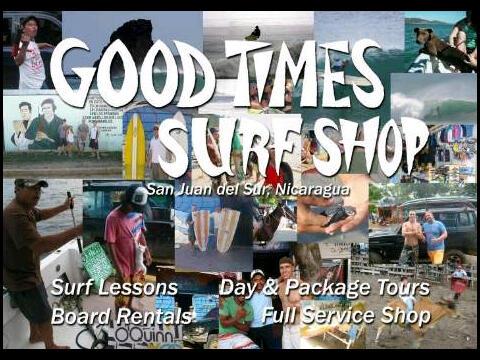 How about a day of surfing from a boat? There is nothing better than going to boating and checking out all the surf spots from the water, some that are accessible only from the water!

So let's go surfing with Aquaholic Or Panga Rosa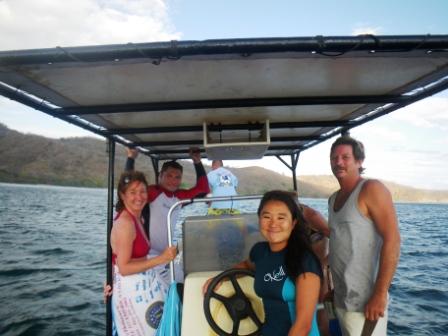 Got a ding and need surfboard repair while in San Juan check out our favorite Moscos . Located next to Barrio Café one block west from the Mercado, Ariel has been fixing surf boards since surfing became popular in Nicaragua.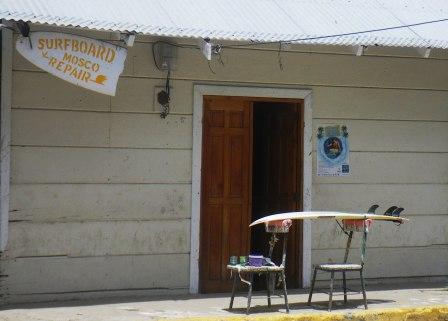 So....Time to go Surfing!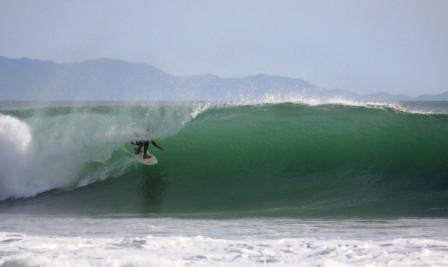 Copyright 2010-2017 San-Juan-del-Sur-info.com  
  Design by Phoenix Rising of Hart, Behrens & Associates