Welcome to our neighborhood
Playa Maderas!
Playa Maderas is located just north of San Juan del Sur.
It is only about 10 kilometers from town though a 10-20 minute drive depending on road conditions as the Chocolata Road
(aka, the Coast Highway Road) is a dirt road in the dry season and a muddy road in the rainy season.

But don't let this deter a visit to Playa Maderas, as it is the most consistent surf spot in Southern Nicaragua! And, beach shuttles run from San Juan del Sur every day.
If you are going to rent a vehicle, a 4X4 is recommended for the
rainy season as the hill into Playa Maderas is rather steep. From town just follow the Chocolata Road, there will be signs at the turn off before the Chocolata Junction, take this left turn, then just stay on this road. At the last fork in the road stay to the right going up the steep hill and as you come down the other side, you are at Playa Maderas!
Year round there are always waves to be had and even though this is one of the most popular surf spots the crowds are thin compared with surfing at most spots in North America!
And, the views of the coast line are stunning, walk the beach at low tide and don't forget to stay and watch sunset!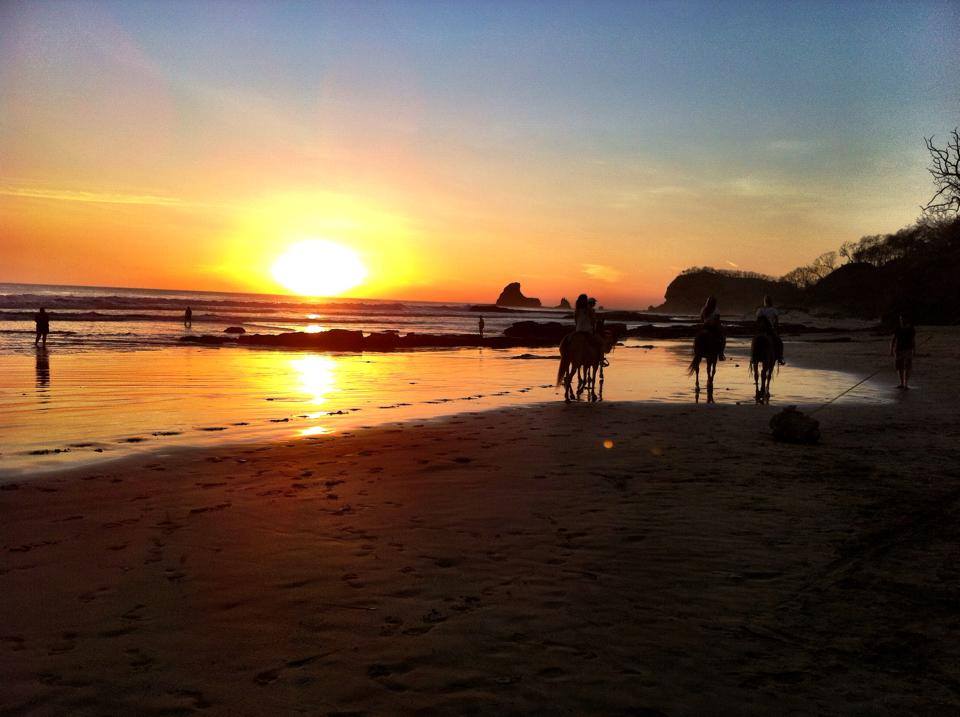 So what is there to do in our neighborhood....Surfing, of course!
Playa Maderas is a beach break that is a good spot for beginners to advanced surfers, as the inside section has a re-form that is great for learning and the outside section is fun, workable, and on many swells hollow tubes for intermediate and advanced surfers with both lefts and rights to be had.
As with all the surf spots along our southern coast Playa Maderas likes a medium to high tide but with off- shore winds predominant you can catch good waves daily. No blown out afternoon sessions around here!
And you can enjoy low tide with a walk down the beach to Playa Majagual which is on the north end of the bay.

If you want to rent a surf board or have a surf lesson, we have
two surf shops at Playa Maderas.



Private Surf Lessons
with AKAMAI SURF
For beginners and novices….learn to surf with Dexter Ramirez, one of the first surfers in Nicaragua!
Dexter has been surfing since 1991 when the first surf boards arrived in San Juan del Sur. He has surfed and placed in surf contest since 2002. In 2004 he started judging surf competitions and is an ISA, (International Surfing Association) judge and also coach of the National Surf Team of Nicaragua!
 Private surf lessons with transportation and surfboard included;
(Minimum of 2 people and a maximum of 6)
Playa Maderas $45 per person
Playa Remanso $45 per person
Playa Hermosa $55 per person, (includes entrance fee)
Set up a surf lesson today!
Rebelde Surf School is located at the foot of the hill, just before the parking lot at Playa Maderas. Private and group surf lessons are available with Juan Carlos and they have a good selection of surf boards including some great short boards for the intermediate surfer
Maderas Surf Shop is located right at Playa Maderas at the
Tres Hermanos Hostel. Surf lessons with good surfboards for beginners,
nice long boards for easy learning and some short boards for the more advance surfer
Click here for more information about Surfing in Nicaragua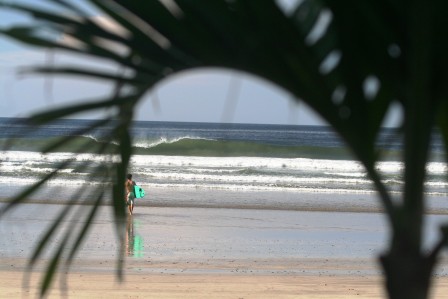 What else can you do at Playa Maderas? How about a surf trip via boat or an afternoon fishing trip? Ask for more information at the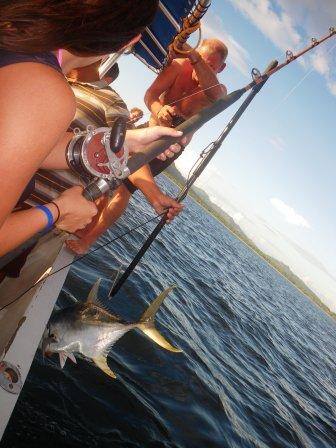 Or....enjoy a Learn to Surf Vacation Package
Or some personalized Surf Coaching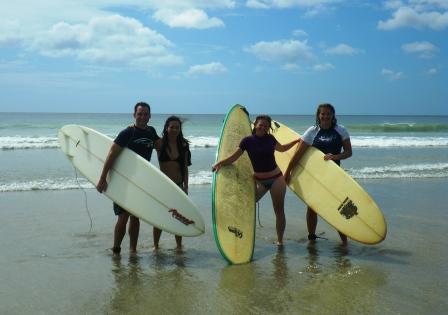 What else is there to do in the Playa Maderas neighborhood?

How about a game of Frisbee Disk Golf at Marsella Valley Park
Or take a walk on their nature trail and see some monkeys and parrots!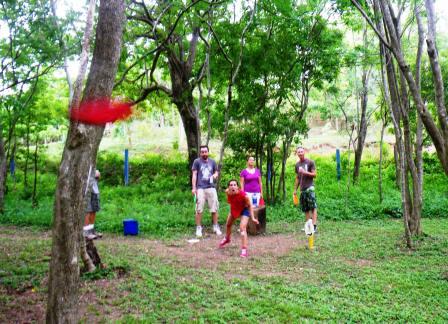 How about a coastal cruise along our shores to check out some marine life and enjoy landing at a secluded beach for a swim!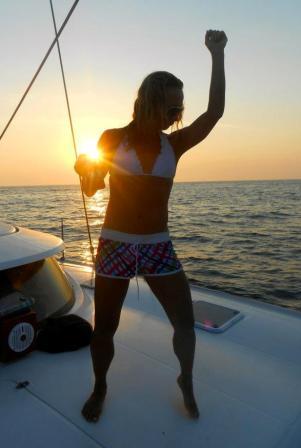 The Playa Maderas neighborhood is interspersed with several good restaurants and bars.

Bar Guanacaste is a local bar that is located on the Chocolata Road as the Playa Maderas neighborhood begins on the West side of the road.
A stone throw away on the East side of the road is
Rancho Maria's Restaurant. They cook great Nicaraguan cuisine with seafood as one of their specialties and they always have our famous Nicaraguan Flor de Cana rum.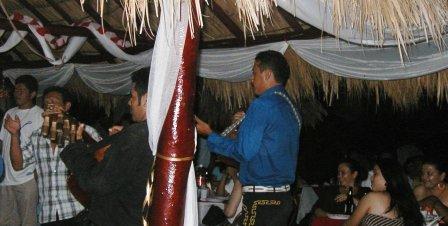 Tienda Marias 
Located next to Las Marias Resturante, a nice little store with Gringo products, spaghetti sauce, bag beans, macs and cheese and wine, beer and rum too!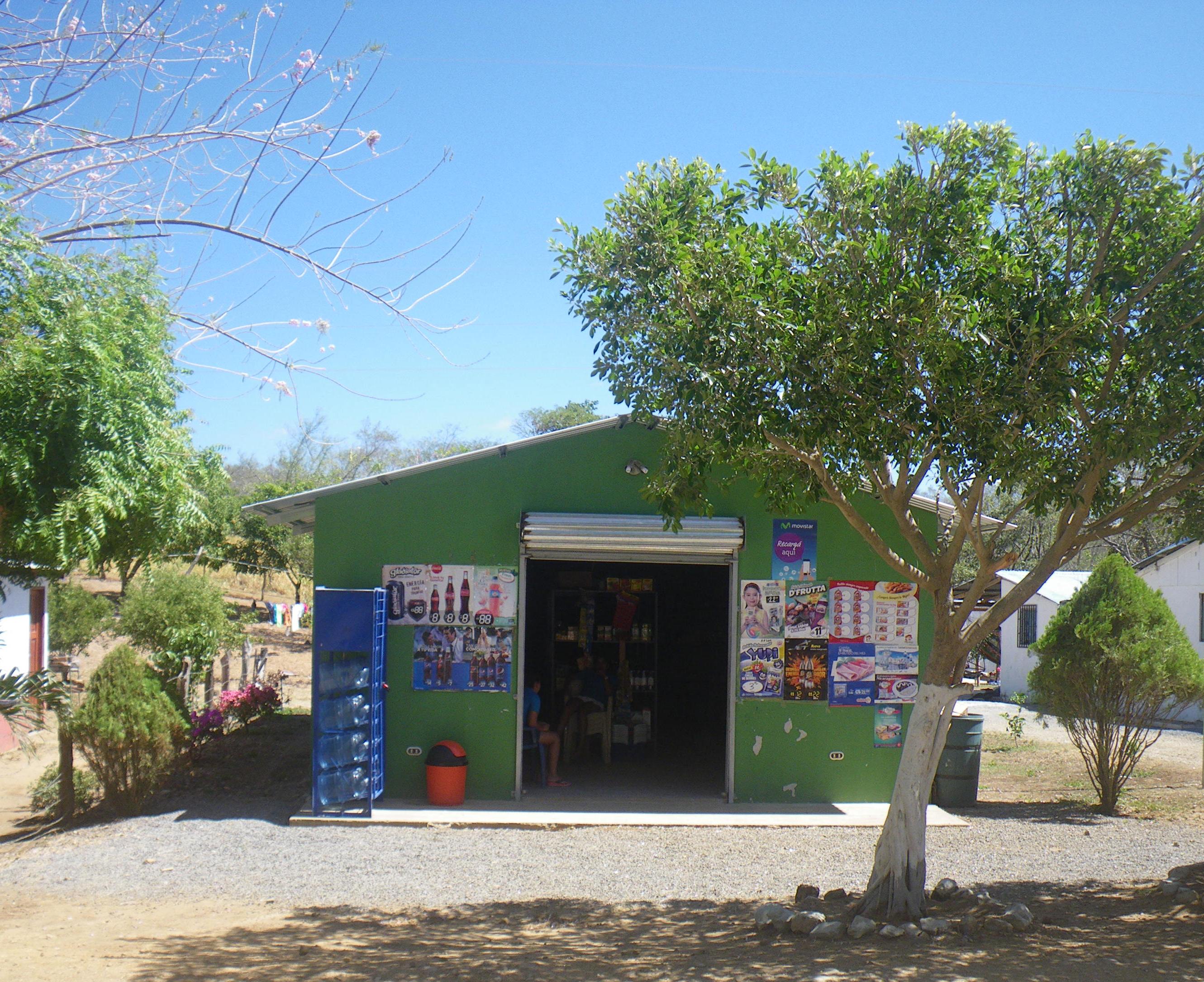 Turn left, just before the Chocolata Junction and head down the road to the beaches, Maderas and Marsella. You will cross over the creek on the bridge, stay to the left and you are on the correct road.
On the west side of the road you will see
Mango Rosa- Adventure Travel & Surf Resort
The poolside Grand Rancho Bar and Grill is open to the public and is just steps from their luxurious bungalow accommodations.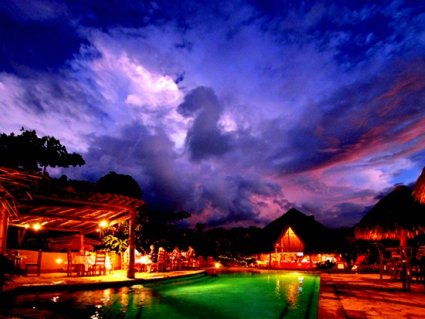 Just before you head up the hill to Playa Maderas is 
Lucky Monkey is the on site-restaurant and bar of Casa Maderas Hotel, open to public every day from 7:30 am to 8:30 pm (food service), 9:30 pm (bar).
The a la carte menu offers a combination of typical and international dishes for breakfast, lunch and dinner. Check out our board for more daily specials and don't miss our home-made cakes!  
Delicious smoothies, soft drinks, Italian wines, and cocktails are available at our bar. 
Every Wednesday and Friday night, come and taste our home-made pizzas from 6 pm! And our happy hour every day from 5 pm to 8 pm: a refreshing cocktail for only $2!
Here our clients are invited to relax and enjoy the beautiful nature surroundings on our wooden terrace open to the breeze and overlooking the large pool and all the hotel property.
Lucky Monkey offers a quiet and friendly atmosphere. We play a mix of latin and international music, not too loud to allow you to enjoy the peace of the place, talk to each other or to our staff always happy to help you in any way they can. Wifi is also available!                                                                                  
On the beach at Playa Maderas are our favorite lunch restaurants!
Taco Locos which has great fish tacos!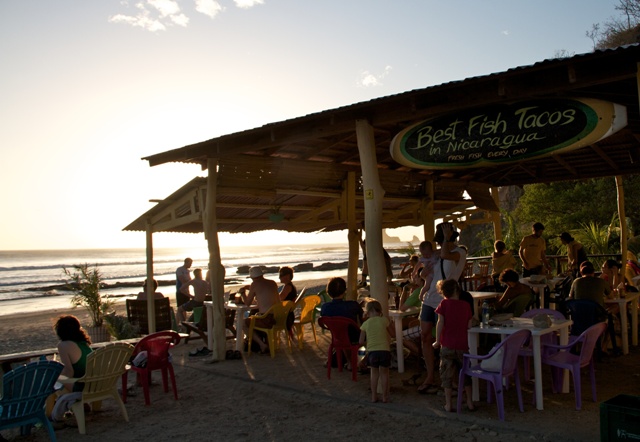 Los Tres Hermanos Bar and Resturante
great food with locally caught seafood daily and really cold beer!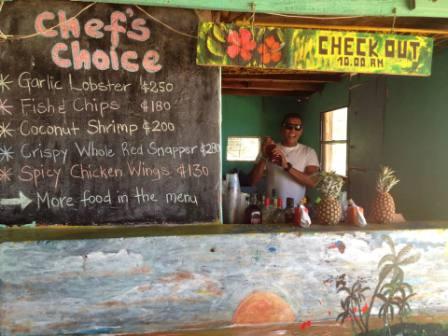 Resturante Sunset Maderas
chill spot with good food, try the burritos!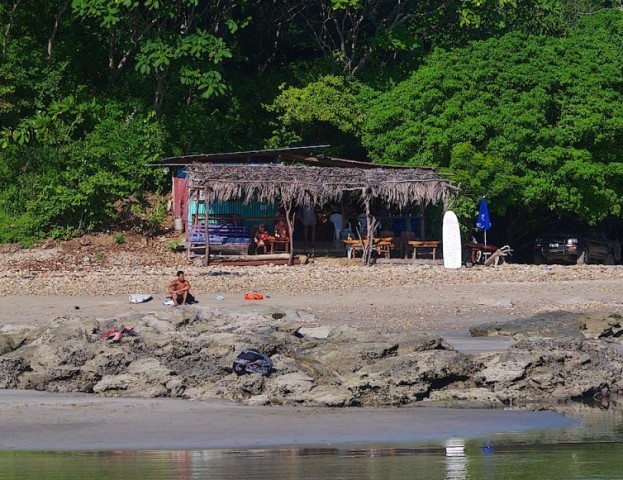 If you want to enjoy the beauty of the jungle and see some of our wildlife right outside your window our Playa Maderas neighborhood has Accommodations ranging from surfers specialty lodging, bed and breakfast inns, rental homes, hostels and even a small resort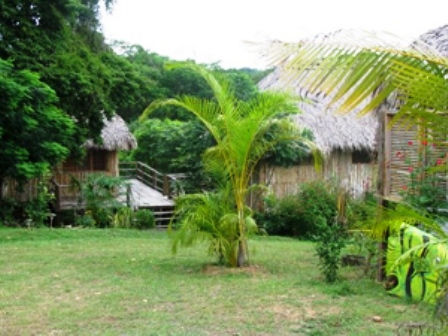 And, we even have one local market in our neighborhood,
Angelita's which is located on the Chocolata Road. She has all basics, beer, rum, rice and beans, so if your renting a house you will want to stock up in town at the Mercado and then hit Angelita's for re-supplying.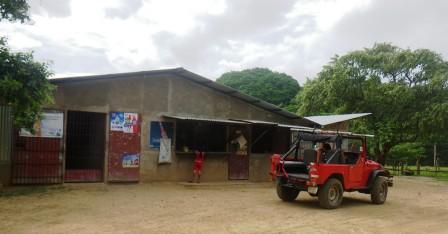 The neighborhood of Playa Maderas
a cool, tranquil place to spend your
Nicaraguan vacation!


Copyright 2010-2017 San-Juan-del-Sur-info.com  
  Design by Phoenix Rising of Hart, Behrens & Associates