Weather and Cruiser Information for
San Juan del Sur, Nicaragua
Central America


Nicaragua is located in Central America between El Salvador and Honduras, to the North and Costa Rica, to the South and has coastlines on both the Atlantic and Pacific Ocean. Nicaragua has 215 miles of Pacific coast line and 330 miles of Caribbean coast line.
It is the largest country in Central America and has the smallest population, roughly 46 people per square kilometer. The Country of Nicaragua is about the size of the State of North Carolina in the United States.

We are in the tropics and our weather is tropical! Nicaragua is located between 11 to 14 degrees north of the equator. The Caribbean Sea is on the Atlantic side of Nicaragua and the climate is the more typical tropical rain forest. On the Pacific Ocean side we have a mixture of tropical
rain forest and semi-dry rain forest.

Nicaragua is a land of volcanoes and tropical rains!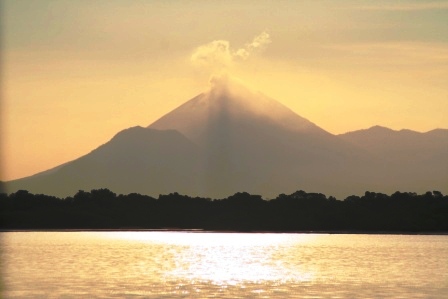 San Juan del Sur is located in Southern Nicaragua on the Pacific Ocean and within view of Costa Rica and with our clear weather it is easily seen as it is only 27 kilometers or 17 miles away.
Ver mapa más grande
We have two distinct seasons, the wet season and the dry season.
The wet season, (invierno) winter is May-October. A quick thundershower or a downpour may be the daily rain at this time of the year. This is the time of the year when the jungle is lush and green.
The dry season, (verano) summer is November-April. Early in the dry season thundershowers are not uncommon and the jungle is still beautifully green. As the dry season progresses, the jungle dries out with almost
no rain for five months.

San Juan del Sur also has a windy season between December to March when the strong Caribbean trade winds blow across Lake Nicaragua, the largest fresh water lake in Central America and across to our Pacific Coast, giving us with our wave grooming off-shore winds for surfing.

And, providing us with very nice cooling breezes day and night. And,
perfect for Star Gazing

Our average temperatures year round are:
Daytime 80*F-90*F (27*C-32*C)
Nighttime 74*F-80*F (23*C-27*C)
And, what is today's weather in San Juan del Sur?
So when is the best time to come…that just depends on what
you want to do on your vacation.

Since our dry season, November to April is the Northern Hemispheres winter, it is our busiest tourist season as San Juan del Sur is a great place for a tropical vacation while there is snow on the ground at home.
Also, since there is surf year round here, it is a good time to take a surfing vacation and enjoy surfing without a wet suit on!
And, during the dry season it is easier to spot our native wildlife,
especially the howler monkeys since the trees have fewer leaves
to hide our critters in.

The beginning of our rainy season, May, is a good time to enjoy seeing the jungle green up and there will be less tourists around at this time of year. By June or July rain will be daily either as thunder showers or a good down pour. It is beautiful here during the rainy season and if you're a surfer it is our biggest surf season so come prepared to ride some good size waves.

Cruising Information for Sailors:
For those of you that are sailing through, San Juan del Sur makes
for a perfect landfall. At Latitude 11' 15.14 N Longitude 085' 52.61 W
San Juan del Sur is a large crescent shaped bay.
Too many cruisers are in a hurry to get to either south or north and they miss out on our little gem of a town.
The bay of San Juan has good holding in a sand bottom and is fine anchorage in all weather except for strong south winds, especially if there is a south swell running at the same time, as it can become a bit lumpy.

The Port Captains Office is right at the muelle and there is a spot for tying up your dingy along the concrete floating dock. There is even a water taxi that the fishing boats use and you can hail for rides to shore. There are plans for a fuel dock but…for now you will have to walk up to the Uno Gas Station, which is on the street coming into San Juan del Sur, with your fuel jugs and then it is easy to catch a taxi back to the muelle with your fuel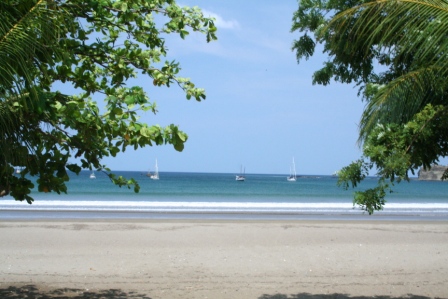 San Juan has a few little stores for re-stocking of previsions and the Mercado always has a good selection of fresh fruits and vegetables.

And, with all the great bars and restaurants along the water front you can enjoy a cold one and watch your boat at anchor at the same time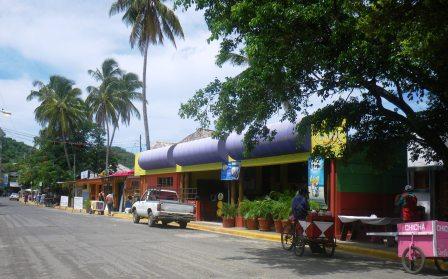 If you are looking for more information on cruising Nicaragua,
cruising information can be hard to come by, we know, we came here
on Ocean Lady, our sailboat, and had to figure it out as we cruised along, but now there are some good guide books on Central America The one that we consider the best and most thorough was done by our friends, on Sarana, Eric and Sherrell whom we buddy boated with all the way down from Mexico. They have helpful information for finding good anchorages, weather patterns, country formalities, fun activities, and practical items.
So…fair winds and following seas!
Copyright 2010-2017 San-Juan-del-Sur-info.com  
  Design by Phoenix Rising of Hart, Behrens & Associates