Weather and Cruiser Information for
San Juan del Sur, Nicaragua
Central America


Nicaragua is located in Central America between El Salvador and Honduras, to the North and Costa Rica, to the South and has coastlines on both the Atlantic and Pacific Ocean. Nicaragua has 215 miles of Pacific coast line and 330 miles of Caribbean coast line.
It is the largest country in Central America and has the smallest population, roughly 46 people per square kilometer. The Country of Nicaragua is about the size of the State of North Carolina in the United States.

We are in the tropics and our weather is tropical! Nicaragua is located between 11 to 14 degrees north of the equator. The Caribbean Sea is on the Atlantic side of Nicaragua and the climate is the more typical tropical rain forest. On the Pacific Ocean side we have a mixture of tropical
rain forest and semi-dry rain forest.

Nicaragua is a land of volcanoes and tropical rains!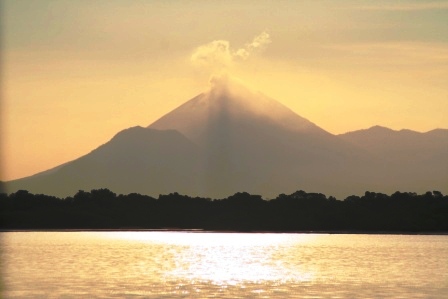 San Juan del Sur is located in Southern Nicaragua on the Pacific Ocean and within view of Costa Rica and with our clear weather it is easily seen as it is only 27 kilometers or 17 miles away.
Ver mapa más grande