Playa Hermosa, a long white sand beach with fantastic views from Nicaragua to Costa Rica and a great surf spot too!


Playa Hermosa is located south of the town of San Juan del Sur.
It is about 12 kilometers from town or about a 30 minute drive depending on road conditions, as once you leave town and
the last little neighborhood, the road will become a dirt road
or a muddy one, depending on the season.



This is Camion Ostional, which is where the road construction of laying concrete pavers is occurring. When completed this will be a coastal route which will run to the border of Costa Rica.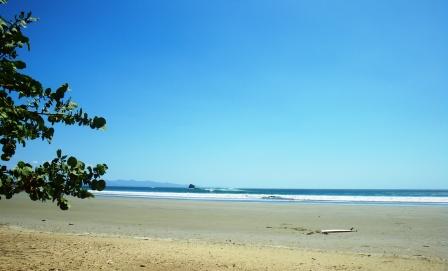 This is a pleasant drive with nice views of the countryside and
some of the little outlying neighborhoods. Once your turn off the main road at the sign for Playa Hermosa you will enter a little gate.
There is a minimal cost for entering per person.

The road then winds along the creek, crossing it in a few places and
finally cresting a hill with great views of Playa Tamarindo, which is the little bay between Playa Remanso and Playa Hermosa.
From there the road runs along the ridge crest and then into
Playa Hermosa. This is where Survivor Nicaragua filmed their first season.

There are shuttles that run from town to the beach and are the easiest way to get to Playa Hermosa, so check with the surf shops in town.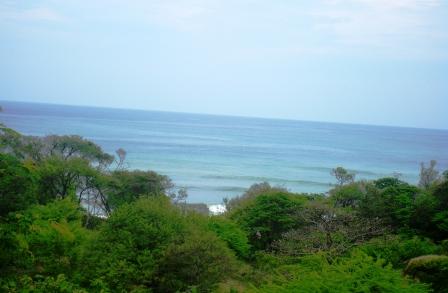 So, what is there to do at Playa Hermosa, surfing, of course!
Depending on the swell direction there are five to seven different peaks along this long stretch of beach. Even if you don't surf this is one beach you should visit as it is a beautiful, secluded beach with
awesome views to Costa Rica!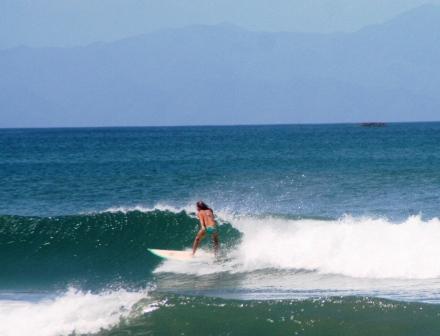 Playa Hermosa is a beach break that is a good spot for beginners to advanced surfers, as the inside sections have a re-form that is great for learning and the outside section is fun, workable, and on many swells hollow tubes for intermediate and advanced surfers
with both lefts and rights to be had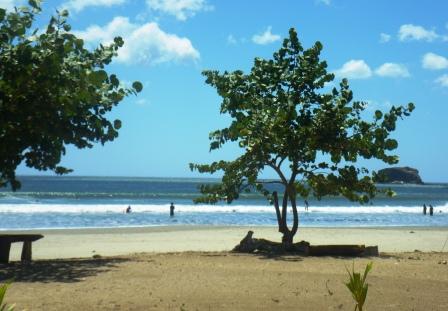 As with all the surf spots along our southern coast Playa Hermosa likes a medium to high tide but with off- shore winds predominant you can catch good waves daily. No blown out afternoon sessions around here.

If you want to learn to surf this is a great beach to learn at and many of the surf shops in town do surf lessons here. Also, there is a surf school right at the beach with surf board rental.
And there are fresh water showers, bathrooms and a restaurant with lots of shady sitting areas under the palapas. The restaurant has good hamburgers and cold beer!

Playa Hermosa also has horse stables so you can enjoy riding horses down the long sandy beach and along the woodland trails.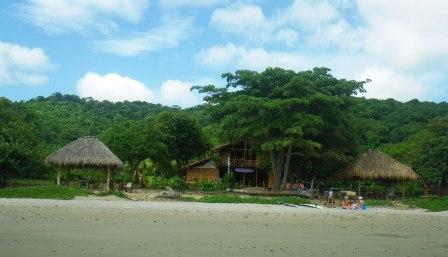 There is one hostel on the beach but it is also easy to find accommodations in San Juan del Sur, and take a beach shuttle to Playa Hermosa for the day.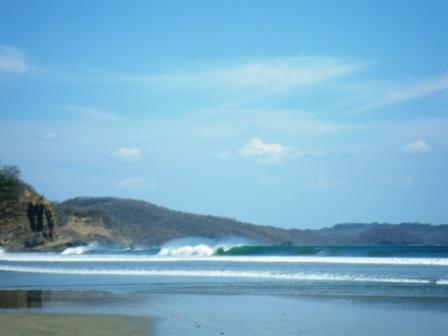 So, enjoy a surf session, a walk on the beach, and a cold Tona at
Playa Hermosa!


Copyright 2010-2017 San-Juan-del-Sur-info.com  
  Design by Phoenix Rising of Hart, Behrens & Associates