Getting to San Juan del Sur
transportation options from car rental to shuttle services to riding the chicken bus!
Transportation via air:
The International airport, Augusto C. Sandino was built in
1968 and is located in Managua.
Nicaragua is serviced by the following international airlines:
American Airlines, Continental Airlines, Delta Airlines, Copa Airlines,
Grupo Taca and Aerocaribbean.

Flights from the US and Canada are via Delta from Atlanta and
Los Angles,Continental airlines from Houston, Spirit Airlines from
Fort Lauderdale, American Airlines from Miami, And TACA airlines from Miami and Washington Dulles. TACA also connects several times daily from
San Salvador and COPA once daily from both San Salvador and Panama City. Flights from Canada are less expensive and less troublesome via San Salvador than via Miami. In the Winter, Air Transat (charter) flies non-stop from Montreal to Managua for packages primarily in Montelimar.

For more information about Augusto C. Sandino International airport
and flights check out their Transportation web site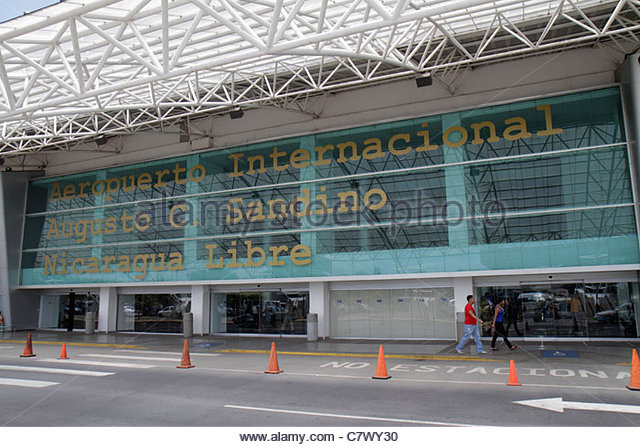 Another transportation option for air flights is to fly into Costa Rica and then come across the border into Nicaragua. The closest major airport is Daniel Oduber Quiros International Airport. This airport has international and domestic flights from Liberia, Costa Rica and is about 81 kilometers from San Juan del Sur, Nicaragua.
Another major airport is the Tamarindo Airport which has domestic flights from Tamarindo, Costa Rica and is 104 kilometers from San Juan del Sur, Nicaragua. Both of these airports are about two hours from the border crossing of Penas Blancas.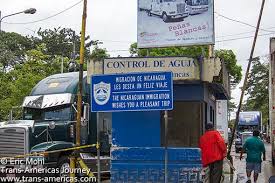 From the airport in Managua it is about 125 kilometers to San Juan del Sur or a 2 1/2 to 3 hour drive. You will drive from the airport in Managua onto the Pan American Highway, which is a two lane highway and runs through numerous small towns on your way to San Juan del Sur.

This is the main highway of Central America with everything on the road from the normal cars, trucks and taxis to semi-trucks, livestock trucks, three wheel taxis, ox carts and bicycles!

The exit for San Juan del Sur will be a right hand turn and there will be a road sign for La Virgen, this is the road that runs into town.
Options for transportation from the airport are shuttle services,
taxis, car rentals and riding the bus.


There are a few shuttle companies in San Juan del Sur that service the airport in Managua daily. Iskra, is our favorite.
These are the most safe, reliable, and comfortable mode of transportation and they offer very competitive rates similar to taxis.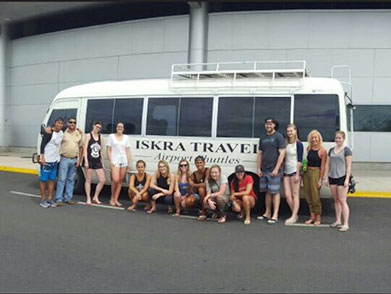 Taxis at the airport are found waiting just outside of the doors as you exit. Make sure you ask and agree on pricing before getting into the taxi. 
Taxis rides are either private or shared. A collectivo or shared taxi will pick up other passengers as they drive along, it is a bit cheaper but may also take a bit longer to get to your destination.
Renting a vehicle is a good idea if you want the freedom to explore
on your own and plan on driving along the coast checking out the beaches both north and south of San Juan del Sur.
A 4X4 is recommended as even the paved roads can be in poor condition and all roads off the main highway are dirt or mud depending on the season.
Rental car companies the airport including: Budget, Alamo, Dollar, Avis, and Hertz. And also Nicaraguan companies Targa and Lugo. Alamo, National and Dollar have offices in San Juan del Sur so you can rent a vehicle after you arrive in town if you are looking to just do a day trip or two.
Alamo/National Car Rental now has an office in San Juan del Sur for easy rental of a vehicle after your in town.
And Nica Adventures also does vehicle rentals of 4X4's
Once in town, San Juan del Sur has many beach transports and many of the accommodations in and outside of town provide beach transportation too.
Also driving in the dark is NOT recommended. There are many unmarked and obscured obstacles, including potholes in the road, livestock and people riding bicycles that most likely do not have reflectors or lights.
And, Ox carts don't have driving lights and neither do some of the cars!
Nicaragua is located close to the equator and the sun sets around
6 O'clock in both summer and winter and there is very little twilight here in the tropics, just about 15 minutes.
If you must drive the Pan American highway at night, drive at a reasonable speed, as some vehicles do not have working tail lights.


Foreigners can drive in Nicaragua for up to 30 days with a valid driver's license and a passport. Turning right on a red light is NOT permitted. Seatbelts must be worn at all times. It is against the law to talk on
a cell phone while driving. And, do not change lanes in the middle of a rotunda (roundabout).
If you have an early morning flight you may want to stay close to the airport. The Best Western Las Mercedes Managua is located right across the street from the airport and the Camino Real is attached to Pharoh's Casino and is just down the street. Both offer airport shuttles.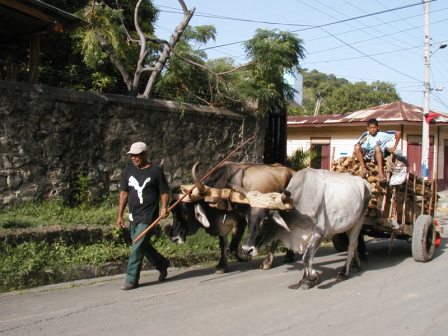 Taking the bus has a few options in Nicaragua. The "chicken bus"
or public bus is the most colorful and the most economical, but slowest way to get around Nicaragua. They can also be rather crowded.
Most public buses in Nicaragua are converted school buses from the
United States which have been re-painted and equipped with roof racks. They will get you where you need to go, local style.
From the airport you will need to take a taxi to the bus station called "Mercado Roberto Huembes" and catch the bus to San Juan Del Sur.
You may also take a bus to Rivas and transfer to another bus to
San Juan Del Sur. The bus stop in San Juan del Sur is in
front of the Mercado, and will get you on a bus to Rivas, Ostional,
and many other local destinations.
The express bus is the most efficient and cost effective option for travelling to and from Managua. These buses are equipped with
air conditioning, sometimes television, and individual seats. Express buses make fewer stops en route compared to "Chicken Buses".
And if you are going to travel between the various countries in
Central America the International buses are a safe, comfortable, affordable and relatively fast way of getting around. There are two international bus companies that offer daily service throughout Nicaragua and to bordering countries. These buses both leave from Rivas,
the Tica bus and the Transnica bus.
Bienvenidos a San Juan del Sur
Copyright 2010-2016 San-Juan-del-Sur-info.com  
  Design by Phoenix Rising of Hart, Behrens & Associates