Surfing in Nicaragua!
Plan a tropical surf trip or learn to surf at one of our surf camps or surf resorts!

Southern Nicaragua is blessed
with about 300 plus days
per year of off-shore winds which makes for world class  surf conditions!
Surfing in Nicaragua with our off shore winds makes for really great conditions. Our off-shore winds are really the Caribbean trade winds which blow across the country, from the Atlantic Coast. These winds blow across Lake Nicaragua, the largest fresh water lake in Central America and across to our Pacific Coast, providing us with our wave grooming off-shore winds. 
Our prime surf season starts in May and runs through September.     October is our rainiest month and it is not uncommon to receive many days of on shore winds. Therefore, many of the local businesses close for the month.   
Tropical water temperatures for this time of year are around
85 degrees Fahrenheit plus or 30 plus degrees Celsius.
Nice and toasty!
Surf is usually the biggest this time of year with small days at
about 2-4 feet or 1 meter plus and with average heights of
4-6 feet or 2 meters!
And, some days much bigger!
Our other surf season, the smaller surf season starts in
November through April. There is still plenty of surf this time of year and a good time to come and learn to surf as the surf is not only a bit smaller but also a bit less strong.
Surf runs around 2-4 feet or 1 meter plus on average for this time of year.
Our tropical waters can get a bit cool during this season since it is also our strongest off shore wind season.
Water temperatures drop as low as 70 degrees Fahrenheit or
20 degrees Celsius, when the wind has been blowing really strong for days.
Heading North from the town is Playa Maderas the most consistent spot in Southern Nicaragua.
It is about a 10-20 minute drive from San Juan del Sur, depending on road conditions.
Playa Maderas is a beach break, with rights and lefts and with 3 different peaks on most swells and prefers a medium to high tide.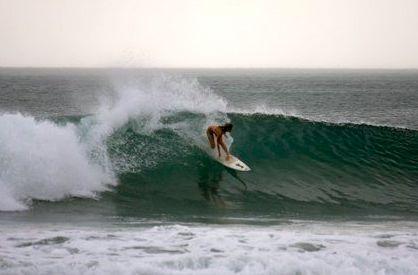 Private Surf Lessons
with AKAMAI SURF
For beginners and novices….learn to surf with Dexter Ramirez, one of the first surfers in Nicaragua!
Dexter has been surfing since 1991 when the first surf boards arrived in San Juan del Sur. He has surfed and placed in surf contest since 2002. In 2004 he started judging surf competitions and is an ISA, (International Surfing Association) judge and also coach of the National Surf Team of Nicaragua!
Private surf lessons with transportation and surfboard included;
(Minimum of 2 people and a maximum of 6)
Playa Maderas $45 per person
Playa Remanso $45 per person
Playa Hermosa $55 per person, (includes entrance fee)
Set up a surf lesson today!
Playa Colorado and Panga Drops is about an hours drive North along the Chocolata Road, (aka the Coast Highway).
A bit of a drive and access is through the private Iguanna's Resort so a surfing panga boat trip out of San Juan can be worth it for
enjoying a day of surf.